Payment
Payment for all private lessons must be rendered to me via cash, check or Zelle (see below) prior to or at the time of the lesson. Credit Cards and other forms of electronic payment are not accepted.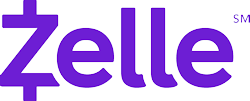 Easy, safe and secure electronic payments, or EFT, can be made from your phone via Zelle, a partnership of over 30 major U.S. banks. Many of these banks (including BofA, Wells Fargo, Chase, Citi & USAA) have already integrated Zelle into their own banking app and no enrollment is required. Simply use your existing banking app and direct your payment to my email address or phone number.
Even if Zelle has not yet been integrated into your bank's app, or if your bank is not yet a Zelle partner, you can still make electronics payments using your Visa® or Mastercard® debit card simply by downloading the Zelle app. Enrollment is simple, quick, and free, and payments can be made easily and instantly. There is no charge for Zelle transactions with most banks.
For a list of Zelle partners and instructions on how to use Zelle with your specific bank, check the Zelle web site.
---
Putting Money On Account

The majority of students who take lessons on a regular schedule prefer to place money "on account" to cover their lessons for several weeks, a month or more ahead of time. While strictly optional, prepaying on account is often more convenient for both parties as it reduces the overall number of transactions and can prevent inadvertent late payments.
You can be fully assured that all money placed on account is held until lessons are taken, and any unused balance is fully refundable at any time. Detailed statements of account are always available upon request.
---

Policies, Lesson Rates & Other Fees
New or prospective students interested in specific information regarding my rates, as well as details on fees for testing, competitions, and music, please contact me directly.
Current students will receive a detailed policy guide either before or shortly after their initial lesson. If you are a current student and have misplaced yours or did not receive one, please let me know.
As noted previously, payment for all private lessons must be made prior to or at the time of the lesson. Please be advised there are penalties for both late payment and late cancellation.
---
Sessions Not Included

Rates are for private lessons only and do not include the cost of freestyle, public, or Coffee Club sessions. Sessions passes or tickets must be purchased through the arena box office, while lesson payments, competition expenses, test fees, and event fees are payable directly to me.